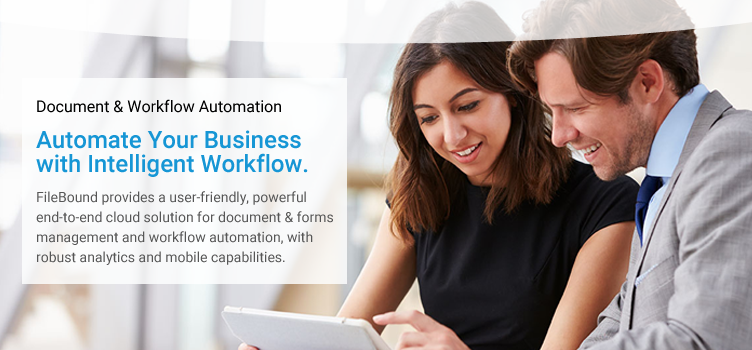 Improve Efficiency Through End-to-End Content and Process Automation
Upland's FileBound delivers document and workflow automation applications that improve the operation of any organization by connecting users with the information they need to work more efficiently and effectively.
With FileBound, customers can build automated workflow processes and centrally manage documents to improve compliance, collaboration and access to information. FileBound applications can be deployed locally or as a cloud-based service and have been implemented by organizations of all sizes around the world.
Benefits
Unlike legacy products, FileBound's simplified, flexible approach to usability, configurability and licensing delivers fast, game-changing results:


Easy-to-use configuration tools give you greater control and agility by reducing reliance on IT when responding to changing business needs
Device-agnostic mobile solutions seamlessly support BYOD policies and remote users at no additional cost
Predictive Analytics tools provide meaningful, timely and actionable insights into all workflow processes to harness the full value of the data to make better business decisions
Contemporary interface design makes it easy to adapt to automation technology and controls what you see when logging on, making it easier to complete work
Easy-to-understand, all-in-one licensing options meet the needs of businesses of all kinds

Workflow Automation

Easily build automated workflows and centrally manage documents to foster transparency, improve collaboration, ensure compliance, and provide intuitive access to assignments and tasks.






Workflow Automation that Empowers the Virtual Workforce.


Improve Business Efficiency

Connect your employees with the information they need, empowering them to be better informed and more productive.

Connect the Virtual Workforce

FileBound makes workflow seamless between full time, on-site employees and freelance contractors across the globe.

Adapt with
Analytics

Make better business decisions based on actionable insights. Predict invoicing, identify bottlenecks, and optimize work for material impact.